Grow your Business

with Coupa
Get noticed by companies spending billions
Having a Coupa Verified account helps you reach businesses spending billions. Be seen by customers when they're searching Coupa to buy from trusted businesses like yours.
How do I get Verified?
Provide Coupa with your Company name and contact details and upload your proof of Identify. If you currently do not have an account you can create a new account and update your profile. If you have an existing profile, please make sure it is complete
How much does it cost to get verified?
Being verified costs less than $1 per day. The cost allows Coupa to deploy resources to process your account information and verify you.
Can I lose my verified status?
To maintain your verified status, Your account must be complete at all times during the validity period of verified status with up to date and account information.Users on your account have to be logged at least once on a rolling six-month basis to maintain validity.
What are acceptable forms of proof of identity?
Bank confirmation letter
To obtain a bank confirmation letter, you may request one from your financial institution in person at a bank branch or online.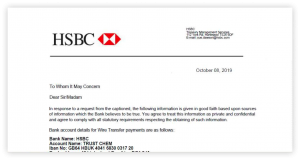 Voided check
You can get a voided check by going to your bank and asking a teller to print one, or you can write "VOID" across the front of the check to prevent anybody from using it.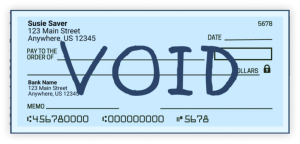 Business Trade License
Provide a copy of your current state or local business license.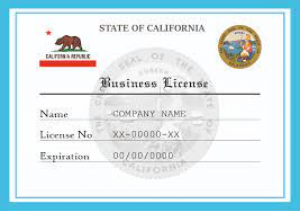 What if I haven't created a Coupa standard account yet?
No problem. You can create your Coupa standard account either before or after you start the Coupa Verified business process. Go to the Coupa Supplier Portal and click "Sign Up" to create an account or log in to an existing account using your email address and password.
What is the verified badge and certificate?
The Verified Badge
The blue Coupa Verified badge lets companies searching for suppliers know that your business account is authentic, complete and active. It is placed next to your company name and is prominently displayed on your profile in Coupa. Best of all, when Coupa customers search for companies like yours to buy from, your profile will be listed ahead of non-verified suppliers in the search results.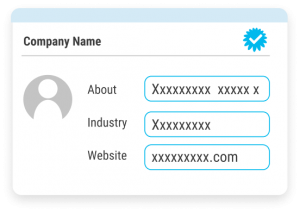 The Verified Certificate
The certificate accompanies the badge and includes details about your authenticity. It can be downloaded and shared with any other customers that may wish to verify your identity.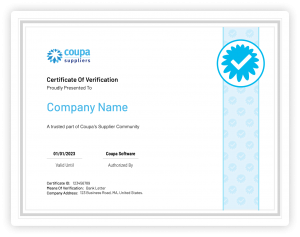 Coupa customers range from the biggest companies on earth to mid-market businesses spanning industries such as Banking & Investment, Industrial Manufacturing, Technology, Retail, Consumer Products, Automotive, Life Sciences, and so much more.

What do Coupa customers buy?
Coupa customers buy everything from electrical supplies to facilities maintenance services through Coupa. Thousands of categories and subcategories including tools, computer equipment, electrical supplies, electronics, office supplies, janitorial service, construction materials, spare parts, cleaning supplies, lab supplies, facilities supplies, industrial equipment, fixtures, adhesives and so much more.