A new simplified experience for suppliers to enter correct remit-to information and easily share it with their Coupa customers. 
New: Supplier Remit-To Attachments
You can now attach voided checks, bank account statements, and other documents when creating a remit-to address that you can use to verify your banking information, reducing transfer bounce backs and fraud that can occur when banking information is incorrect.
On the Add a new Remit-to page, we added the Supporting Documents field to the What are your Bank Account Details? section of the remit-to form.
To add attachments, you can click Choose Files and select up to five files to upload. If you want to replace the attachment(s) before saving, you can click Choose Files again and choose different attachments to upload, replacing any existing attachments in the process. After saving the remit-to, you can edit the remit-to to add additional attachments, but you cannot remove existing attachments.
Note: You can add BMP, PDF, JPEG, PNG, TIFF, or GIF attachments, with a file limit size of 10 MB for each file. The attachments are stored with encryption for security.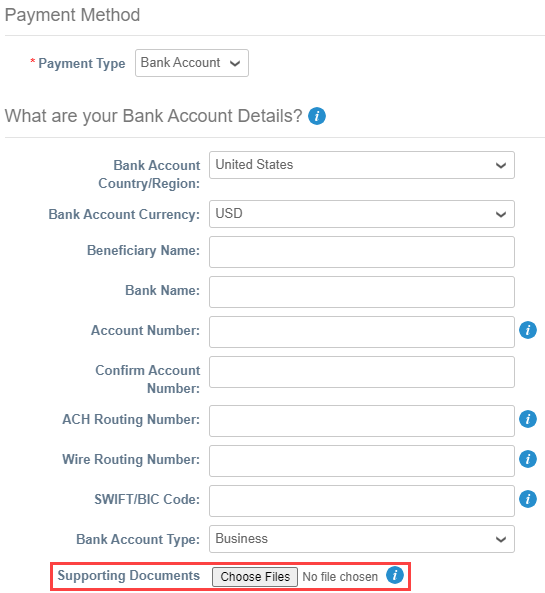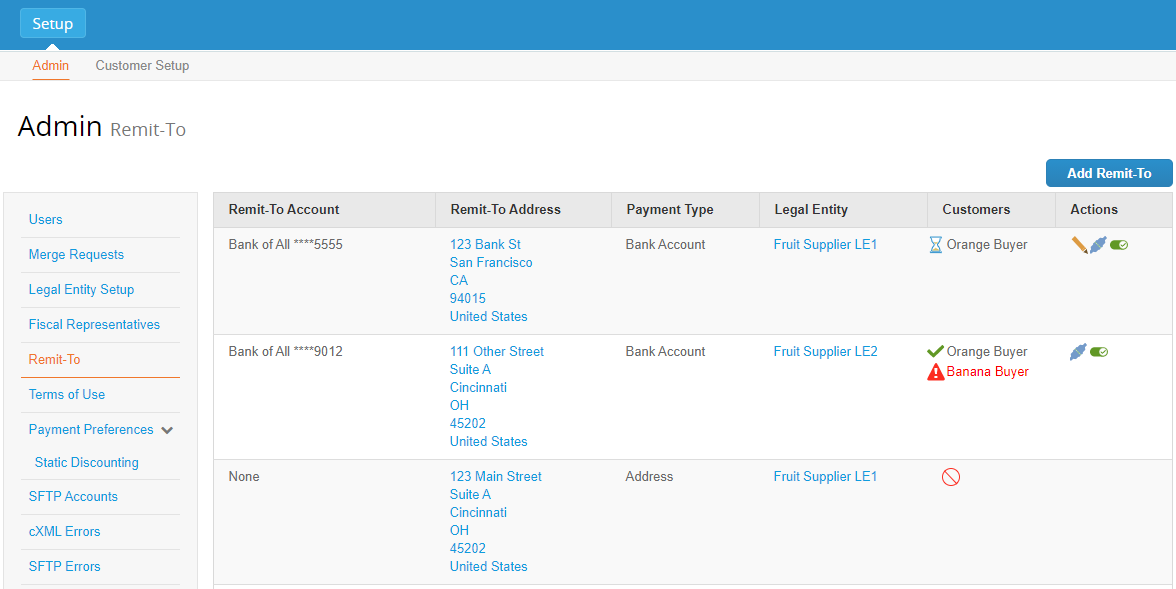 Directly manage remit-to accounts from the Remit-To menu
You can now manage remit-to accounts directly from the Setup > Admin > Remit-To page.
Previously, you could add new remit-to addresses or deactivate existing ones only from the Admin / Legal Entity Setup page by going to Actions > Manage Remit-To Accounts.
To add a new remit-to account, click the Add Remit-To button in the top right corner and select your legal entity to be associated with it. Use the icons in the Actions column to update, share, or deactivate remit-to accounts.
When you click the Share icon, the Edit Remit-To Usage window appears and you can select the customer(s) that you want to see your remit-to information.
For more information see
View and Manage Remit-to Information
.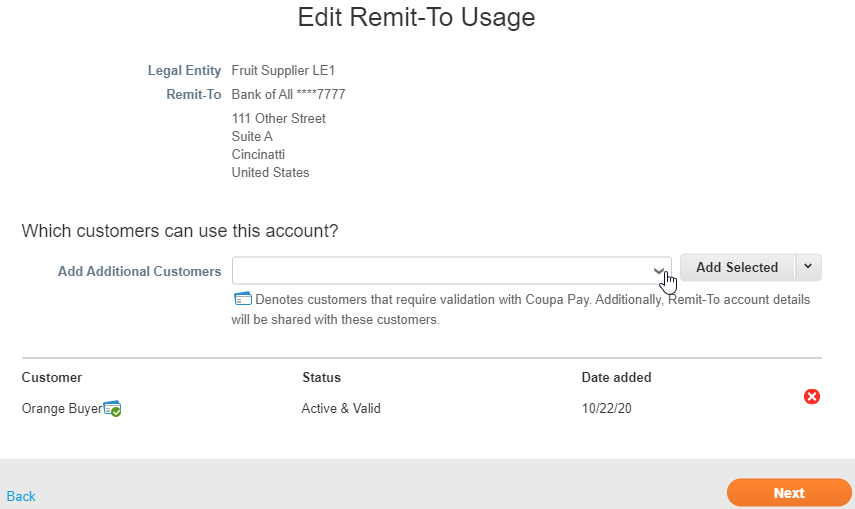 Remit-to Improved Experience Video
Watch the video to learn about the major changes improving the supplier experience in remit-to account management:
– The bank account country/region and beneficiary name are defaulted based on the legal entity, and the bank account currency is defaulted based on the bank account country.
The available bank account fields and field names depend on the selected country.
– Tooltip texts and validation errors are updated to be more informative.
– Suppliers are warned when they are saving invalid remit-to accounts and are allowed to save such accounts only once.
– When updating existing remit-to accounts, suppliers are informed that updating remit-to results in creating a new and deactivating the old remit-to account. When updating invalid accounts, suppliers can only save them after correcting the invalid fields.
– When suppliers add a remit-to address to their SIM form response, they can also see the type of payment account associated with it.