be

The first to get paid

with nanoramic laboratories
Coupa's static discounting program allows you to request faster payments on your schedule.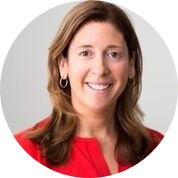 Julie Ross
Chief Financial Officer
Nanoramic Laboratories
Message from Julie Ross,
Chief Financial Officer, Nanoramic Laboratories
Nanoramic Laboratories  is partnering with Coupa to launch a new digital payments program to get you paid faster. This program will shorten the payment cycle by delivering you a virtual credit card by email or by depositing payments directly into your bank account. Additionally, you can track and manage all your accounts receivable in one place and get instant access to every payment and associated remittance advice.
I would encourage the person responsible for cash management to review this program and activate your free Coupa account. Typically this would be the CFO, Controller or Accounts Receivable.
If you have questions, our team is ready to help you at [email protected].
Thank you for your continued partnership with Nanoramic Laboratories.
Best,
Julie Ross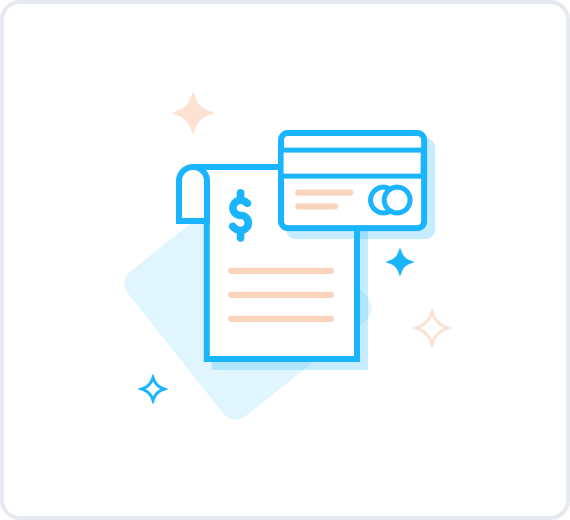 Speed
Get your invoices paid faster on your request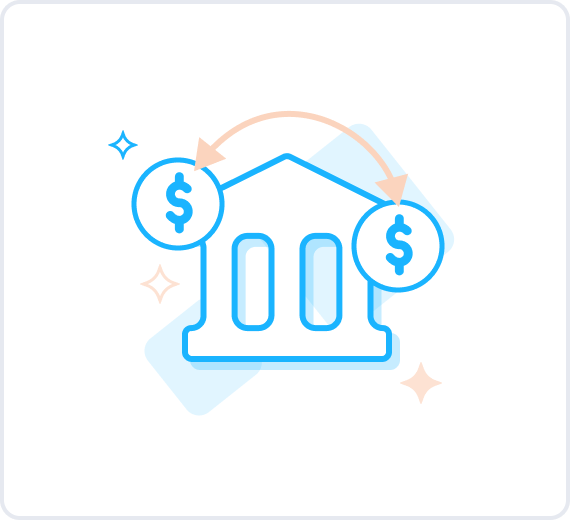 Control
Turn on/off with a few clicks, only use it when you need it (or all the time)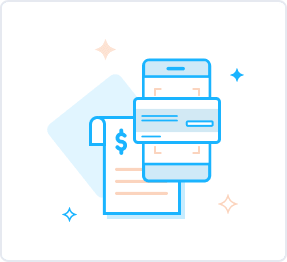 Security
Discount requests go directly to your customer and if awarded you are paid in the same method they pay today
How to find the early payment terms in your CSP account
Action → Go to the Admin tab in the CSP, choose "Payment Preferences" and select "Static Discounts" then "Edit"
Action → Click on the Edit Preferences button in the top right corner of the Coupa Static Discounting Preferences page.
Action → Select your preferred terms for early payment. The correct term will be used based on how your customer set you up on their side of Coupa. You can learn more about these settings on this Coupa Success Portal article. It's required that you add the name of the person at your company authorized to choose these payment preferences.
Action → If you submit invoices to customers via CXML or CSV, select the "Apply to All Invoices" checkbox in the preferences section.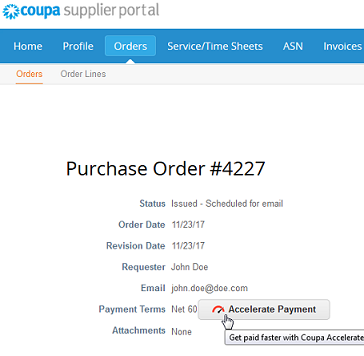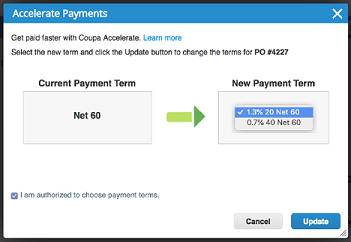 How to accelerate orders or invoices
Step 1: Open the order/invoice and click on the Accelerate Payment button next to the Payment Terms field.
Step 2: In the appearing Accelerate Payments dialog box, select a payment term from the available options and click Update. Your customer might have assigned payment terms specific to you. Only those payment term options are visible that have the same net payment terms as your default.
Step 3: If you accept the terms, you are asked in a popup if you want to update your default Coupa Static Discounting payment preferences on all the future orders and invoices with the specific customer. If you decide to Update them, you are directed to the customer-specific Coupa Static Discounting Preferences page. Here, you can also choose to apply your discount payment terms globally to all customers by selecting Default Customer Preferences.
Notification for application of new payment term and order acceleration
When an accelerated payment term is applied to an order or an invoice, that payment term is available on the order or the invoice and it has the Accelerated flag. You are notified of the action in the message bar and the change is recorded in the History section.
For a specific transaction, if one of the listings in your customer's Payment Terms table matches your selected preferred discount, that invoice or order is automatically marked as "Accelerated". If there is no match, you can see the Accelerate Payment button in the Payment Term field of the invoice. Clicking on it allows your customer to select from their list of authorized payment terms.
Accelerate orders from PO emails
You can accelerate orders directly from PO emails if:
Your customers enabled Coupa Static Discounting.
You set accelerate preferences.
POs have net terms that can be accelerated.
Your customers set up matching payment terms.
Click on the Accelerate Payment button in the PO email. From the email, you are directed to the PO and the Accelerate Payment dialog box appears.
Static Early Payment Discounts Video
Watch a video on Static Early Pay Discounts.
Trusted by brands across the globe

Join the 8M+ businesses already on Coupa
Find your next customer, accelerate your payments, and enjoy exclusive business savings!