We've re-worked the Profile section in the CSP to organize your information in an easy-to-digest way and helps you to become more discoverable to Coupa customers while providing marketing tools to help showcase your abilities.
Search for help or choose a category below to find what you need.
Check out the new sections we added to your profile:
Enhance your information: Find useful suggestions based on data from the Coupa Community to improve your profile.
Who you work with: Showcase customers you work with here by adding their names and logos.
Financial: Add your preferred currency and financial information in this section, including totals for revenue, profit/loss, total assets, and more. Financial information only displays for you and doesn't show on your public profile. You can choose to include financials when you download your profile in PDF.
Note: The following profile sections have updated names:
• "Who we are" is now Who you are
• "What we do" is now What you do
• "Why you should hire us" is now What sets you apart
View Your Public Profile – Overview Section
When you view your profile, you see the 
Overview

 
section that provides clear indicators of profile completion, business opportunities you could take advantage of, and a preview of what your profile looks like to others.
You also see 
Profile Setup
 sections in the side menu that divide your profile information into sections that showcase your business.
See the list below for more information about the Overview section.
1. The Profile Level section shows how many sections of your profile you have completed, indicated by a filled in green badge (). Clicking the Update Profile button or Edit or Set up in the list of profile sections opens the selected profile section.
2. This section suggests opportunities to improve your business, based on the products and services you selected in the Product And Service Categories field in the "What we do section" of your profile. The CSP looks at the cumulative amount of spend from buyers and the number of items purchased in the relevant spend categories and shows the percentage of that spend that your company represents.
3. Here you see how your profile looks to buyers who view your profile in the Supplier Portal Directory in Coupa. You can also click Copy profile URL to get the profile URL to give to current and potential customers. If you want to use your CSP profile as a marketing tool, you can download your profile as a PDF.
4. Links that provide more information about the profile.
5. You can click Tell us what you think to submit feedback to Coupa about your CSP experience.
6. If your customers use Information Requests, this section displays any forms they've sent your company requesting information.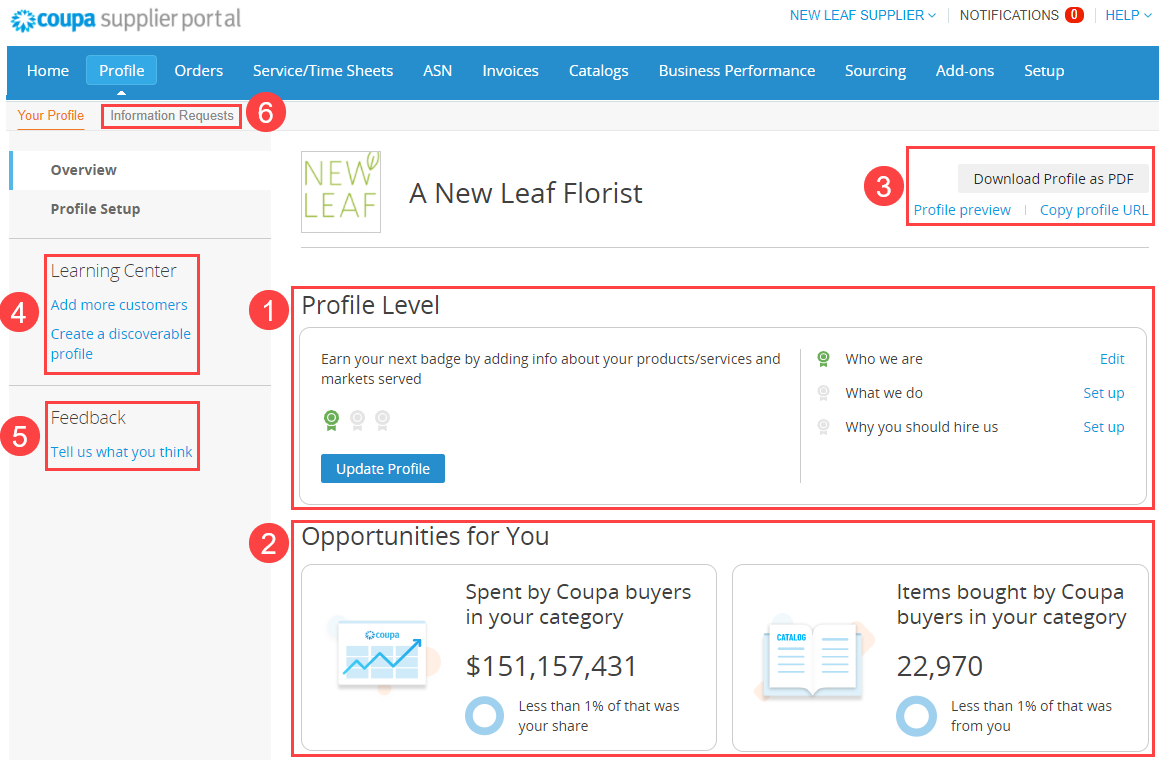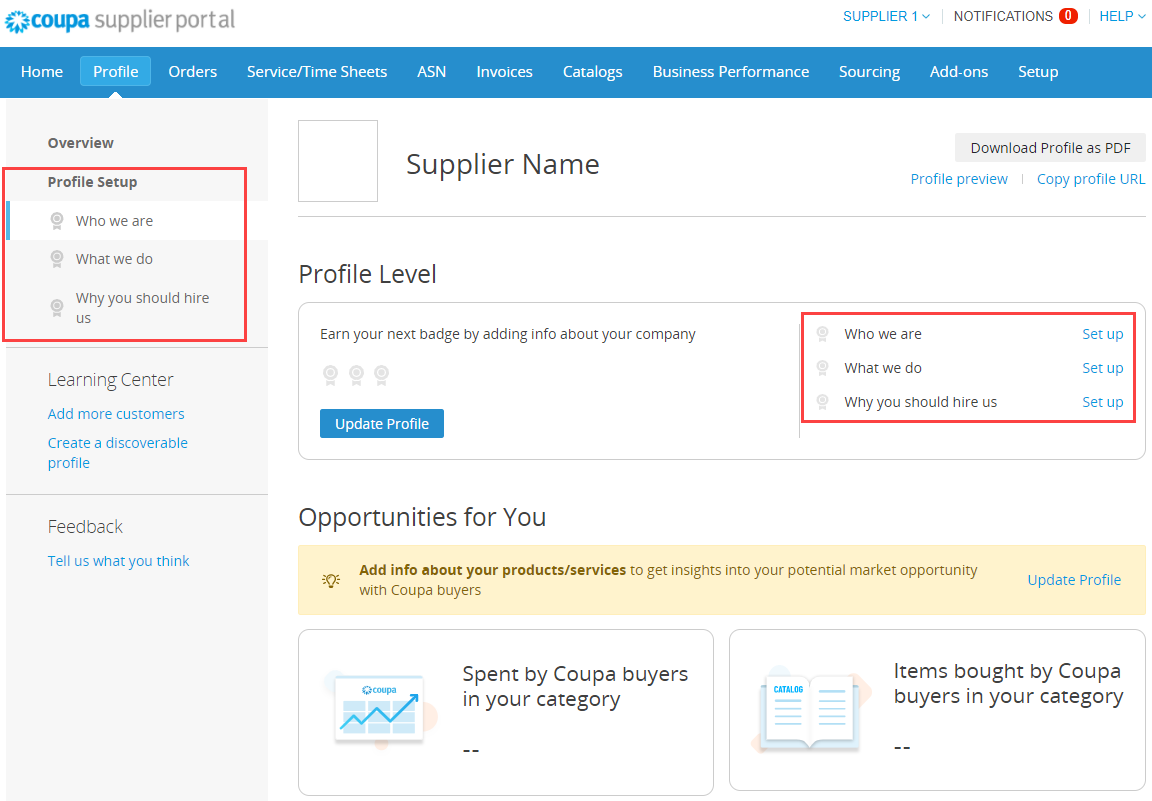 Profile Setup – Create Your Profile
To get started filling out your profile information, select Profile in the top menu. On the Overview page, select the section of your profile that you want to work on and click the Setup link in the Profile Level section.
You can also click Profile Setup in the left menu to expand and select a profile section. The CSP takes you to the section you select so you can complete your information.
Profile Setup – Who We Are Section
The "Who we are" section gives customers background information about your business, such as what your business does, how customers can contact your business, and how they can interact with your business on social media.
To receive your badge for completing this section, you must complete the following fields:
About – Description of your company and what makes you unique (maximum 3,000 characters).
Company Name – Your company's legal name.
Company Size – Select a range from the drop-down list to show the size of your company.
Primary Contact – Information about who your customers should contact: name of your company's contact person; position that the primary contact fulfills at your company; email address that customers can use to inquire about your business; mobile phone number that customers can use to inquire about your business; work phone number that customers can use to inquire about your business. The contact's profile picture that displays in your profile;
Note: The CSP populates the information you provided when you signed up for the CSP.
Registered Address – You can add your business's address
Tax ID – Your company's tax identification number that your customers need to do business with you.
Year Established – Year when your company was established.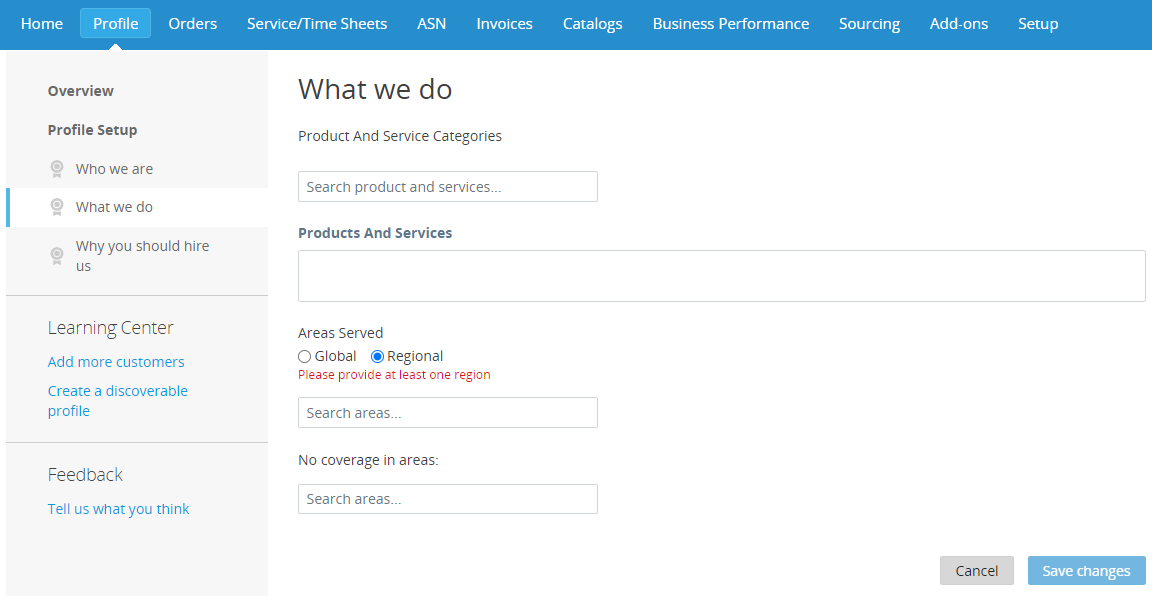 Profile Setup – What We Do Section
The "What we do" section gives your customers detailed information about the products and services your business provides and the countries and regions where you do business. To receive your badge for completing this section, you must complete all of the fields.
Products and Services Categories – Add product and service categories to show the types of products and services your company offers.
Note: If you do not add any categories, the Opportunities for You section on the Overview page does not display data.
Products And/Or Services – You can enter free-text descriptions of your products are services.
Areas Served – select areas and regions that you do business in, in addition to areas that you do not do business in.
Note: If you select Regional, enter the regions you serve in the box that appears.
Profile Setup – Why You Should Hire Us
The "Why you should hire us" section gives your customers information about how your business is diverse, awards and honors that set your business apart from others, and policies and ratings that influence how customers evaluate whether they want to do business with you.
To receive your badge for completing this section, you must complete the following fields:
– At least one award, distinction, or project
– Bribery and Corruption Policy
– Corporate Social Responsibility Rating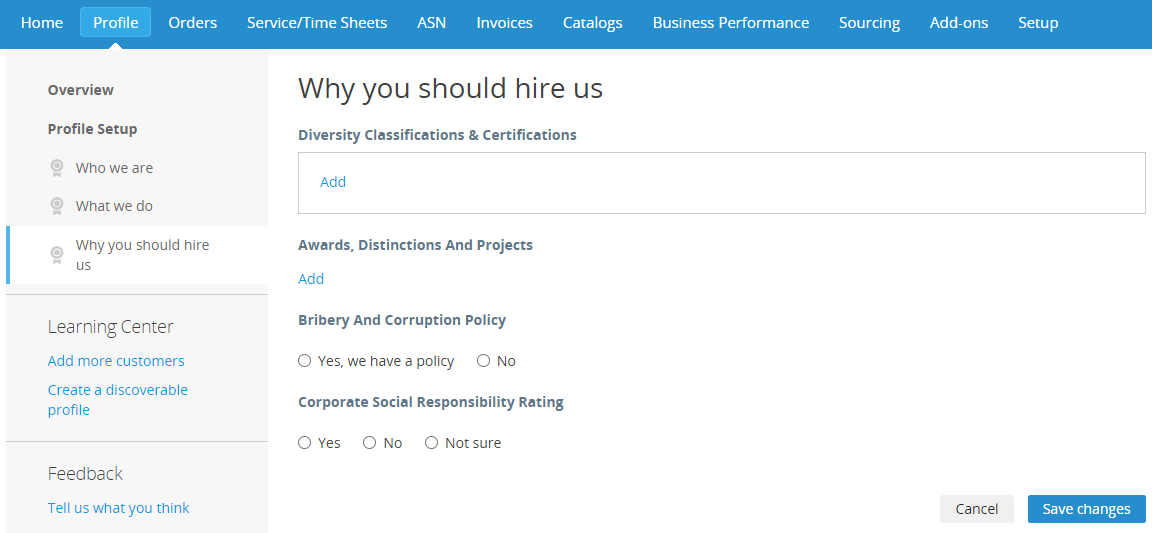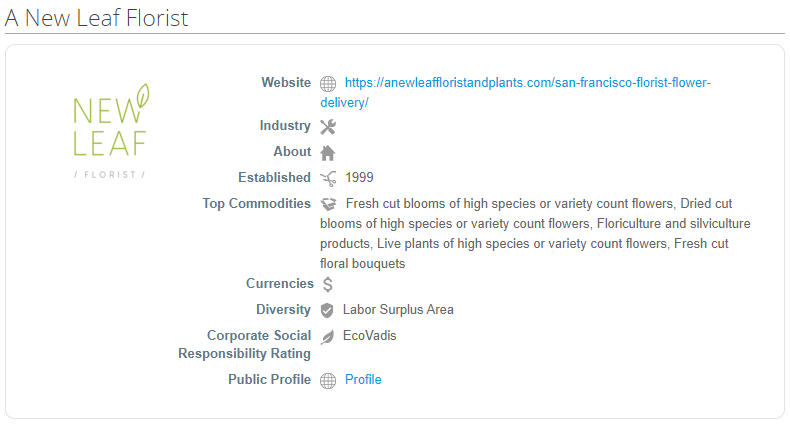 You can see a summary of your profile information on the homepage. The top section displays how complete your profile is (indicated by filled in badges under 
Profile Progress
) and when the profile was last updated.
Click the Improve Your Profile button on the CSP landing page or Profile in the top menu to view your Profile.
The Profile Summary section uses tiles to summarize the number of legal entities, registered users, and connected customers that your business has, in addition to whether you have banking information, have diversity information, use static discounting (accelerate), and have a bribery policy. You can click View in the Legal Entities and Registered User tiles to open those respective sections in the Setup > Admin section, where you can manage those records.
The final section summarizes your profile information. You can click the Profile link in the Public Profile section to see a preview of what customers see when viewing your profile.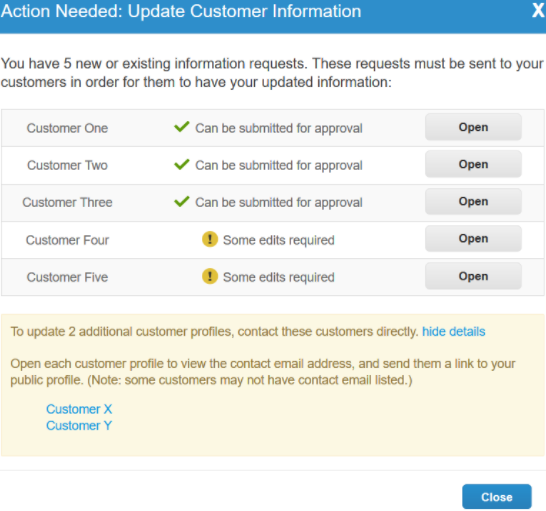 Sharing profile information with your customers
Follow the steps below to update your public profile:
– Select Profile in the top menu.
– Select Profile Setup in the side menu. The Profile Setup menu item expands to show the profile sections.
– Select the profile section you want to update.
– Update the desired fields. For field descriptions, see Create Your Public Profile.
– Scroll to the bottom of the screen and click Save.
Note: If any of your customers use Information Requests and you update information in your CSP public profile, you are prompted to update your customer profile if you have any pending Information Requests.