get paid FASTER
with EARLY PAY DISCOUNTING 
Offer discounts for early payment when you create invoices in the Coupa Supplier Portal.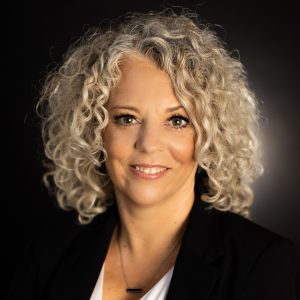 Jennifer Portales
Director, Shared Services Procure-to Pay
Gamestop
Message from Jennifer Portales
Director, Shared Services Procure-to Pay, GameStop

GameStop is partnering with Coupa to launch a new payments program to get you paid faster. This program will shorten the payment cycle by depositing payments directly into your bank account and offering an early pay discount. Additionally, you can track and manage all your accounts receivable in one place and get instant access to every payment and associated remittance advice.
I would encourage the person responsible for cash management to review this program and activate your free Coupa account when you receive your invitation. Typically, this would be the CFO, Controller, or Accounts Receivable.
If you have questions, our team is ready to help you at [email protected] or register for a Coupa Supplier Portal Training Webinar to learn more about using the new Coupa system.
Thank you for your continued partnership with GameStop.
Refer to the table below for further explanation of codes.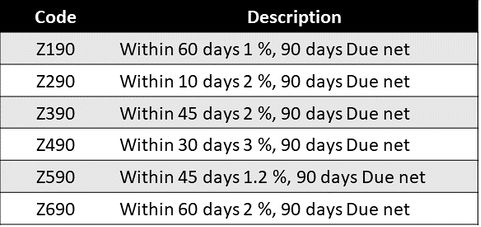 Best regards,
Jennifer Portales
Director, Shared Services Procure-to Pay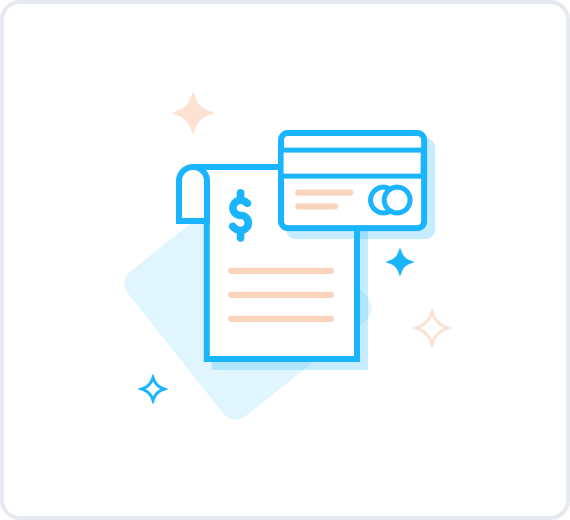 Speed
Get your invoices paid faster on your request.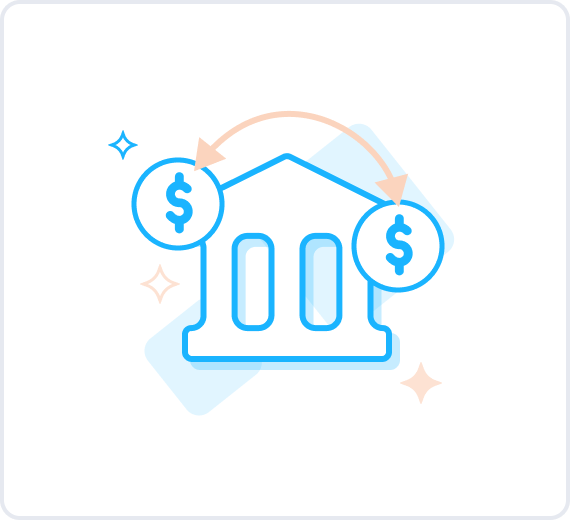 Flexibility
 Use when needed or automatically apply on all your invoices so you never miss an early pay opportunity.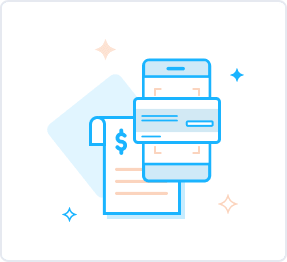 Security
Discount requests go directly to GameStop. If accepted, get paid using the same method you are paid today.
How to use Static Discounting
Access Static Discounting 
Action → Log into the Coupa Supplier Portal (CSP). Go to the Admin tab, choose "Payment Preferences", and select "Static Discounting".
Action → Click on the Edit Preferences button in the top right corner of the Coupa Static Discounting Preferences page.
Action → Select your preferred terms for early payment based on your original payment term. Setting up your preferences here will apply these settings to all your customers using Static Discounting in Coupa. You can learn more about these settings in this Coupa Support Help Page. You must also add the name of the person at your company authorized to offer discounted payment terms.
Action → Select the "Apply to All Invoices" checkbox in the preferences section to have the discount automatically applied to all your invoices for your Static Discounting customer, even those submitted via cXML or csv.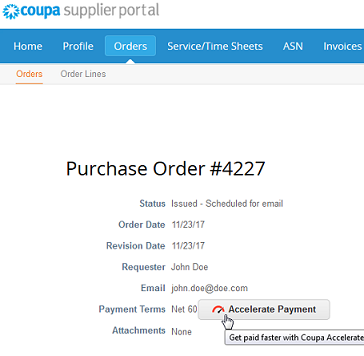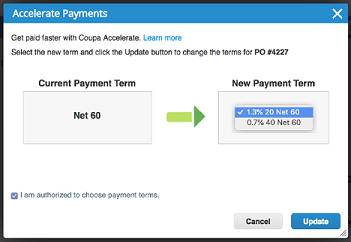 How to accelerate orders or invoices for GameStop
Step 1: Open the order/invoice and click on the Accelerate Payment button next to the Payment Terms field.
Step 2: In the Static Discounts Payments dialog box, select a payment term from the available options and click Update. GameStop may have assigned payment terms specific to you. Only those payment term options are visible that have the same net payment term you have set with GameStop.
Step 3: If you accept the terms, you are asked in a popup if you want to automatically update your default Coupa Static Discounting payment preferences on all future orders and invoices with GameStop. If you decide to set this up, you are directed to the specific Coupa Static Discounting Preferences page for GameStop. Here, you can choose to auto-apply your discount payment terms for GameStop only, or globally to all customers that may use Static Discounting in Coupa by selecting "Default Customer Preferences" in the dropdown.
Notification of new payment term and order acceleration
When an accelerated payment term is applied to an order or an invoice, that payment term is available on the order or the invoice and it has the Accelerated flag. You are notified of the action in the message bar and the change is recorded in the History section.
For a specific transaction, if one of the listings in your customer's Payment Terms table matches your selected preferred discount, that invoice or order is automatically marked as "Accelerated". If there is no match, you can see the Accelerate Payment button in the Payment Term field of the invoice. Clicking on it allows you to select from the list of your authorized payment terms.
Accelerate orders from PO emails
You can accelerate orders directly from PO emails if:
Your customer enabled Coupa Static Discounting.
You set Static Discounting preferences in CSP.
POs have net terms that can be accelerated.
Your customer set up matching payment terms.
Click on the Accelerate Payment button in the PO email. From the email, you are directed to the PO and the Accelerate Payment dialog box appears.
Join the 8M+ businesses already on Coupa
Find your next customer, accelerate your payments, and enjoy exclusive business savings!